I've been having a rough couple of days on the emotional front. Nothing too serious, just some personal issues (yes, too personal for the blog) that I need to work out. I headed to the gym tonight feeling kind of down but ready to get a good workout in: A run on the treadmill followed by a thirty minute spin class.
When I finished my run, I walked into the class room to get ready for spinning. As I was sitting there stretching, one of the ladies who was warming up for class told me that she sees me running every day (which is an exaggeration because I definately do NOT run every day) and asked if I was training for the
Grand Rapids River Run
in May. I smiled and told her that yes, I was training for it and was planning on running the 10K. She then proceeded to tell the girl on the bike next to her how hard I work and how she wishes she could run as fast as me.
Yeah, you read that correctly. She wishes she could run
as fast as me.
Regardless of the fact that I almost started laughing because obviously I am totally NOT fast, her kind words were exactly the confidence boost that I needed. I powered through spinning and left the gym feeling great and in a much better mood than when I arrived :)
Now, getting back to my run, I decided to mix it up tonight and did a speedwork run inspired by
Megan
. Here's what I did:
My thoughts while running:
Minutes 0-6:
This is a nice warm-up. I could do this all day.
Minutes 6-10:
Oh sure, I would love to chat with you (Mike the trainer) now that I've cranked the speed up and I'm huffing and puffing like an out-of-shape moron.
Minutes 11-15:
Alright Krista, this is where it gets tough. Push through it! You'll be glad you did!
Minutes 16-20:
THIS. SUCKS.
Minutes 21-23:
OMG. Is this effing run over yet?!
Minutes 24-28:
Wow, this pace felt so much slower at the beginning of the run. I feel like I'm gonna die.
Minutes 29-30:
Yessss. I rock.
I covered 3.09 miles in 30 minutes, which actually surprised me because this was supposed to be a
speed
workout and I have actually run a treadmill 5K
faster than that before.
Regardless, this run still totally kicked my butt.
Some eats from today:
For breakfast, I had attempted my first bowl at overnight oats and surprisingly wasn't a fan. I think I need to tweak the ingredients a little, or maybe I'm just a warm oatmeal kind of gal?
In the bowl:
1/2 cup raw oats
1/2 cup plain Greek yogurt
1/2 cup almond milk
blueberries
almonds
chia seeds
cinnamon
Any tips on how I can improve it (
that don't involve peanut butter
)?
For lunch I met up with my friend Elly at
Panera.
I love that place!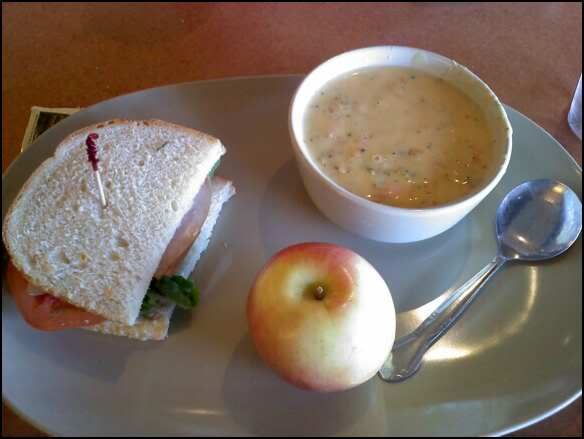 That's the
Pick Two Combo
with
1/2 smoked turkey sandwich, brocolli cheddar soup, and an apple.
Time to go finish watching
The Bachelor: After the Final Rose.
Elly and I are having a party over here analyzing every detail and I won't give it away but OMG this finale totally threw us for a loop. Jaw dropping. For real.
What was your workout today?
Did you watch The Bachelor tonight? What did you think?!