Morning everyone and Happy Hump Day ;) I'm off being all grown up and working again, but I wanted to leave you with a special edition of WIAW – today's post is What I WISH I Ate Wednesday. If calories didn't matter and I could eat whatever the heck I wanted all day and not worry about gaining a single ounce, here's what I would be indulging in for breakfast, lunch, dinner and of course, dessert. (Side note: this post pertains specifically to restaurant foods.)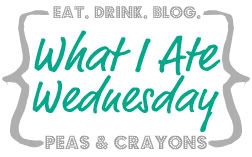 Breakfast
Bob Evans' Cinnamon Stacked and Stuffed Cinnamon Cream Hotcakes
"We take two stuffed hotcakes, stack them with vanilla cream cheese, add more delicious toppings, then finish with whipped topping and a sprinkling of powdered sugar."

I believe the description says it all. I remember the first time I ever tried these pancakes: I had the queen of all foodgasms. They are seriously the most delicious pancakes I have ever had in my life.

Lunch
Bubba's Veggie Burger with a side of Bubba Fries drenched in "Barbonaise"
"Black bean avocado cake, pesto ranch, lettuce, tomato and cheddar cheese served on a veggie bun."
Not only is this the best veggie burger that I have ever had in my life (yes, even better than Marie Catrib's sweet potato and quinoa burger), but I highly doubt I will ever find a restaurant with better French fries than Bubbas. Dipped in their delicious "barbonaise" (some combination of BBQ sauce and mayonnaise), they are to die for. If you are ever in Traverse City, you must go here!

Dinner
This one is a toss-up between Pizza Hut's new Cheese Lover's pizza with alfredo sauce…
Or Olive Garden's Chicken Alfredo.
We all know how much I love Pizza Hut, but I'm pretty crazy for Olive Garden's Chicken Alfredo as well. It'd be a tough call! Wait a second, what am I saying? If calories didn't matter, I'd eat both of them! ;)

Dessert
Pietro's chocolate volcano
"Rich, moist cake, topped with vanilla and chocolate ice cream, caramel and chocolate sauces, Oreo cookies and whipped cream."

Melissa and I got this one time last summer and OMG. Choosing a single dessert that I would want to eat was the most difficult part of this post, but when I remembered this dessert it was a done deal. It comes in a HUGE bowl and we were shocked when we saw how much food it was. We figured there was no way we could possibly finish it, but after the first bite we knew we'd find a way ;)
Even though the above meals are some of my all-time favorite restaurant foods, it's been so long since I've eaten some of these things that I don't even have my own pictures of them (the pancakes, chicken alfredo and chocolate volcano photos were courtesy of the restaurant websites). I'm all in favor of indulging and allowing yourself cheat meals and treats, but the grand total for all of these sinful dishes is a whopping 5,000 calories. Even I can't justify eating that.
If YOU could eat anything you wanted for a day (and calories didn't matter) what would you eat?