Holler for double-poster days! Ha ha. I already posted this morning about
things I'm loving lately
, but I've got 20 minutes to kill before I leave for body pump so I thought I'd join in on the
WIAW
fun!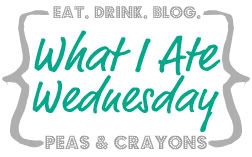 Breakfast #1/Pre-Workout Fuel:
Kashi Go Lean! Crunch
This bowl of cereal was followed by 30 minutes on the ellipitical and an hour of yoga.
Breakfast #2/Post-Workout Food:
Toasted peanut butter and banana sandwich
Lunch:
Fruity protein smoothie
In the smoothie:
1 cup frozen mixed berries & cherries
Strawberry Chobani
1 scoop strawberry protein powder
handful of fresh organic spinach
splash of milk
This smoothie was soooo good!! I think the addition of the frozen cherries made it extra sweet :)
Pre-Body Pump Dinner:
Turkey meatball pizza & broccoli
I was trying to think of tasty way to use up the last of my
turkey meatballs
and this definately did the trick!
The turkey meatballs kind of look like hunks of bread. Weird...
I was planning on eating the second half of that pizza after class because I know I'll be hungry again, but I've been craving frozen yogurt for the last 48 hours and that craving has not even come close to subsiding. I may have to remedy that tonight ;)
Tell me about something delicious that YOU ate today!