Hey hey! Hope you all liked my calorie counting FAQ post and found it somewhat helpful. Be sure to let me know if I missed anything that you'd like me to answer on the blog!
So, it's been a while since I've joined in on the What I Ate Wednesday fun, so I thought I'd bring it back today
. I haven't been participating lately because pretty much every day is What I Ate Wednesday on my blog, so I didn't really see the point. However, it's been a few days since I've posted a whole day's worth of meals, so here it is: everything I ate on this lovely Wednesday
.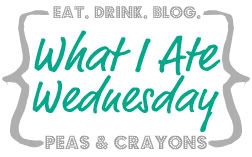 Breakfast:
Egg white bagelwich and Greek yogurt
My favorite bagelwich combo that I just keep coming back to: Egg whites, strawberry preserves (though I actually like raspberry better) and melty muenster cheese on a toasted Everything Bagel Thin.
I've seen this sandwich pop up on quite a few blogs lately, so I urge you to try it if you haven't already!

Lunch:
Last night, my mom made this amazing pizza on the most awesome crust on the planet. It's an organic corn meal crust and it is to die for. I enjoyed a slice with a spinach salad for dinner:
And I enjoyed the exact same meal for lunch today. I'll spare you a photo, but picture the exact same food that's shown above squashed into Tupperware on a cafeteria table
.

Dinner:
I was absolutely starving when I got home from the gym this afternoon and munched on some fresh fruit while I waited for my mom to finish cooking dinner (yes I know I'm very lucky to have someone who cooks for me
).

Dinner was definitely worth the wait. You can never go wrong with a taco bar!
Ground chicken, black olives, lettuce, guacamole, sour cream, and shredded cheese. People, it doesn't get much better than this.
Man oh man I SO wanted to go back for a third, but this whole accountability thing has really working for me lately
.

Workout
Today's workout featured some more strength training as well as some HIIT to get my heart pumpin'. I recently re-vamped my workout schedule to incorporate more lifting after remembering how much I love strength training. Here is my tentative schedule that I'll be following for the rest of the month:
Monday: Legs, cardio (20-30 min)
Tuesday: 3.0 mile run, abs/core work
Wednesday: Chest, arms, cardio (20-30 min)
Thursday: Long run (4 to 5 miles)
Friday: Back, shoulders, cardio (20-30 min)
Saturday: Cardio Party (whatever I want)
Sunday: Whatever I feel like doing/Make-up for any missed days during the week
As you can see from the schedule, today's strength training was for chest and arms. Here's what I did:
Incline dumbbell flyes 3 sets x 15 reps
Incline alternating dumbbell bicep curls 3 sets x 12 reps
Dumbbell presses 3 sets x 12 reps
Overhead tricep extensions 3 sets x 20 reps
Cable curls 3 sets x 12 reps
Tricep pressdowns 3 sets x 15 reps
Chest flyes (machine) 3 sets x 10 reps
I followed this lifting session up with 20 minutes of HIIT on the Stairmaster. It's been a while since I've done any HIIT and I quickly remembered how tough it is. Oh, but it's SUCH a good workout. If you want to burn fat and calories fast, this is the way to go! I did mine with a 1:3 work to recovery ratio (30 seconds level 10, 90 seconds level 4). I think next time I'm going to crank up the intensity and go for a 2:1 work to recovery ratio; that'll be a challenge for sure!
Do you incorporate HIIT training into your workouts?

Favorite form of cardio?
Mine is probably the Arc Trainer. Next to running, I always burn the most calories when I use this machine.