I always feel guilty when I don't post for a day, but after doing nothing but working all day not only do I usually have nothing to blog about, but I'm always completely wiped out and don't want to do anything except veg on the couch and watch TV. Speaking of TV, did anyone catch the season finale of Biggest Loser last night? Damn did they look good! Especially Patrick
(I was going to post a photo, but I can't get the finale pictures to load on their website. So sad.)
---
Right now I'm off at the dentist getting my cavities filled (sad face), but I thought I'd leave you with a What I Ate Wednesday post. Of course, this is obviously what I ate yesterday, but you get the idea.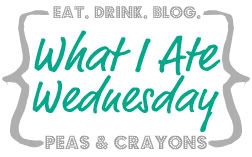 Since I was working, my eating schedule was pretty much the same as it was on Monday when I posted about my mini meals.

Breakfast: breakfast cookie
Into a bowl the night before went:
1/3 cup raw oats
1/2 scoop chocolate protein powder
1/2 T cocoa powder
1-2 T almond butter
splash of milk
dried cherries, walnuts
Mix it all together, spread it on a plate, enjoy the breakfast of champions the next day. I will always bow down to The Fitnessista for dreaming up this beauty.

First break Snack that was wolf downed while working: protein bar

Lunch: leftover vegetable fettuccini, plus a baby apple and a clementine
(This did NOT fill me up. I could have used about three more clementines.)

Dinner: chicken quinoa soup with bread
Looking back, it was probably not the smartest idea to use a yellow placemat for a picture of yellow soup, but I was too hungry to care. This soup was delicious and loaded with veggies and quinoa goodness. It was also made with homemade chicken broth. Um, win.

I'll be back later after I'm done getting my teeth drilled. Happy Hump Day
.

Previous WIAW posts: