It's days like today, when I am rushing from a full day at my rotation straight to a Turbo Kick class at my gym and then home to collapse in bed, that I am grateful for WIAW. I can write the post in advance, post a link on Jenn's blog, and then read about all of the other tasty things that people have been munching on. Of course, posting what I eat is nothing new, but this just lets me put a fancy label on the post
.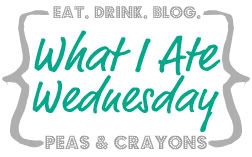 But, before I get into yesterday's meals, I just want to say that I am absolutely loving all of your goals for the year. I love reading your stories and appreciate that some of you feel comfortable enough to be so personal. Also, some of your comments made me laugh out loud. Lauren – I can totally relate to the whole "dressing like a student" thing. I could probably cut back on the sweatpants, too! Haha.
(By the way, if you haven't already seen it, be sure to check out my little giveaway from yesterday!)

Alright, time for some food!

Breakfast:
Whole wheat waffles with blueberries and maple syrup
Served with two eggs + the remainder of a carton of egg whites
(that were obviously covered in ketchup between photos)
Yum…delicious breakfast! Nice to mix things up a bit.

Snack:
I've really been on a Larabar kick lately!

Lunch:
Typical. Spinach salad with dried cherries, feta and sunflower seeds (with Newman's Own Lite Raspberry and Walnut dressing), Black Cherry Chobani Greek yogurt, and a string cheese. Simple, filling, nutritious.

Dinner:
I was pretty proud of this dish! Stir-fries are (relatively) easy, not to mention healthy and colorful. I am no chef, nor am I a good recipe writer, but I have had a few requests to start posting recipes. Here's how I made this stir-fry.

Easy Chicken and Veggie Stir-Fry
Serves 3-4
Ingredients
4 thinly sliced boneless skinless chicken breasts (you could also use two regular chicken breasts, but cooking time may need to be adjusted)
Seasoned salt (to coat chicken breasts)
2 & 1/2 cups water
1 cup uncooked brown rice
2 Tbsp extra virgin olive oil
2 cloves of garlic, minced
1/3 cup chopped red onion
1/2 cup chopped red bell pepper
1/2 cup chopped green bell pepper
1 cup sliced mushrooms
1 cup chopped broccoli
2 tsp Tony Chachere's creole seasoning
Preheat oven to 350 degrees. Place chicken breasts in greased baking dish and sprinkle with seasoned salt. (I don't measure this out, I just sprinkle it on the tops of the chicken breasts.) Place in oven and bake for 35-40 minutes.
While chicken is baking, add water and rice to a pot and bring to a boil. Reduce to medium heat, cover, and cook for 35-40 minutes until rice is tender and water is absorbed.
Approximately 15 minutes before chicken and rice are done cooking, add olive oil, garlic, onion, and red and green bell pepper to large skillet and cook on medium high heat for about 10 minutes until onions start to caramelize. Add mushrooms and broccoli and cook for another five minutes.
Slice cooked chicken into bite sized pieces and add to skillet with creole seasoning. Simmer for 1-2 minutes. Remove from heat and serve with rice. If desired, add rice to skillet and mix before serving.
I should note that all of the vegetable measurements are approximate; I did not actually measure out any of them. The creole seasoning measurement is also an estimate, so feel free to adjust this as you see fit!
It may take a little bit of time to prepare, but it's worth it! Especially when I'm only cooking for myself and have leftovers for three days
.

Speaking of which, it's time to heat up some of those leftovers and turn on last night's Biggest Loser. Catch ya later!