Good morning! Sorry for the lack of posting yesterday. I had a hair appointment in the evening and by the time I was back home, cooked dinner, and ate I was completely exhausted and just wanted to veg.
Can you see the new red lowlights I'm sportin'?
You can't really tell because of the lighting in this picture, but I got a color similar to the one I got here. However, this time I got even more lowlights so I'm really rocking the red!

Luckily, you haven't missed much else around here. On Monday night, I went out to eat at Uccello's with my friend Kate and her boyfriend, TJ.
Dinner started with bread and olive oil with a tasty blend of seasonings
and I ordered the taco salad for my main meal:
Beef overload! (TWSS)


Kate was in the mood for dessert, and there's no way I could possibly sit and watch someone eat a mini peanut butter pie and not order one myself.
Cute, small, and totally delicious.
It was a fun dinner full of catching up and getting to know TJ. He's a great guy and he and Kate are so stinkin' cute together!
---
Alright, moving on, it's time for another What I Ate Wednesday
.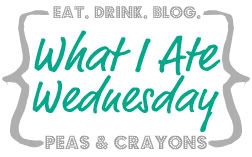 Here are yesterday's eats, starting with breakfast:
Plain oatmeal topped with brown sugar and raisins. I was trying to recreate the oatmeal that I had on Saturday because it was so delicious, but I failed. I don't know what the heck they did to that oatmeal to make it taste so amazing, but I'm determined to figure it out.
Served with two eggs for some protein:

My mid-day meal was my current packed lunch obsession:
Ham sandwich on a bagel thin with a Laughing Cow wedge, avocado, and spinach; plus two clementines and a carton of raspberry Greek yogurt. I must have gotten burnt out on spinach salads because right now they do not sound appealing AT ALL, but I feel like I could eat this lunch every single day and never get sick of it.

I was so tempted to stop and grab something for dinner since my hair appointment ran late, but I stuck to my plan and whipped up a little meal to use up a bunch of the produce in my fridge.
I prepped some sweet potato fries by peeling and slicing a couple of sweet potatoes, drizzling them with olive oil, and sprinkling them with salt. Then I popped them in the oven for 20 minutes at 425 degrees.
While the potatoes were roasting, I sliced up some red onion, red and green bell pepper, mushrooms, and two (pre-cooked) chicken sausages and threw them all in a pan with some olive oil and garlic powder. I cooked them on medium high heat for about 15 minutes and they finished cooking about the same time the sweet potato fries were done. My little chicken-sausage-veggie creation turned out really well!
I was so glad that I buckled down and made myself cook something (rather than picking up something to go) because not only was this healthier, but I made enough for tomorrow as well. It'll be so nice to have yummy leftovers waiting for me when I get home
.
Alright my friends, I'm off to a full day at my rotation and then I'm hitting up a Turbo Kick class. Have a happy hump day!