Good morning and happy WIAW!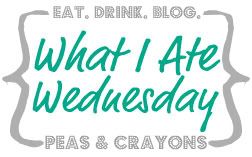 I just got back from a bright an early 5:30 am spin class and all I can say is that my booty is going to be S-O-R-E tomorrow. It was a rough wake-up call, but I'm so glad that my workout is done already because today there is no other time that I'd be able to squeeze it in. My legs are also already sore after yesterday's workout. I didn't do anything special, just the same old leg circuit that I've been doing for a few weeks, but apparently I really worked it yesterday! Here's the routine:
(I do one set of each exercise before moving immediately to the next. Usually I rest for about a minute or two before repeating the circuit two more times.)
At my gym, there is a second weight room that is usually pretty empty in the mornings, and it has everything I need to complete this circuit. I'm in and out of the weight room in fifteen minutes! That's my kind of workout
. Yesterday I finished it up with 20 minutes of HIIT on the Stairmaster, which is always a doozy.

Thinking about my delicious breakfast I had planned kept me motivated throughout my workout!
A couple of scrambled eggs and two whole wheat waffles with a microwaved cinnamon apple on top.
So, so good!

After breakfast it was time for a full day at the compounding pharmacy. I spent most of the day working on creams, but at the end of the day I observed one of the technicians while she made capsules and that's what I'll be doing today. I'll be honest: I have not heard good things about compounding capsules. Everyone I've talked to says that it's pretty tedious and definitely not their favorite thing to work on, so we'll see how today goes!

Lunch was the exact same packed lunch that was pictured last week:
Salad, yogurt and a string cheese. Carbs, fat and protein baby! I have been missing my ham sandwiches though and already have one packed up for today
.

By the time rotation was over I was so hungry that I was about to chew my arm off, but unfortunately it was the only time I had available to go to the grocery store and I desperately needed to. Luckily, I didn't let the fact that I was ravenous deter me from sticking to my list that I quickly scribbled down before I left the pharmacy:
But I may or may not have eaten a whole pint of raspberries on the way home.
The berries did a good job of tiding me over while I cooked up this incredibly easy, and incredibly delicious, meal:
Spinach tortellini topped with marinara, sautéed mushrooms, and parmesan cheese
With roasted green beans on the side.
To prepare the green beans I rinsed them and chopped the ends off before tossing them in a couple teaspoons of olive oil. Then I seasoned them with salt and garlic powder and put them in a 400 degree oven for about 15 minutes. I was originally going to roast them for 20, but the rest of my meal was ready before they were done and I didn't have the patience to wait another 5 minutes
. They still turned out great though!

Well I'm off to rotation for the day, and I have dinner plans with a friend after that. Have a good one!