Hello my friends!
To start off on a completely random note, I hate how frustrated I get with my weight fluctuations. Right now I weigh myself every day and keep track of it on a calendar because I like to see the trends, as well as the week to week progress. However, I've also heard every reason why you shouldn't do that, and one of the reasons is that it will drive you crazy.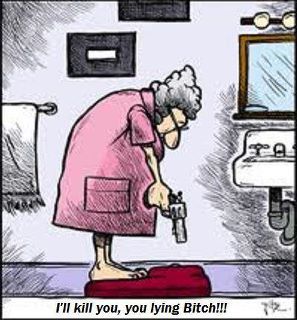 Source
This always happens when I start really trying to lose weight – I get on the scale way too often and then I get irritated when I don't think the number accurately reflects my efforts. It's enough to make a person give up and completely derail off their plan, which is obviously not what we want. I know that I won't wait an entire week before stepping on the scale again, but I think I'll try to cut back to a few times per week. I think that's critical for my sanity – I hate when weight loss starts to consume my life. Yes, it's important, but it's not the only thing going on!
------------------

Alright, thanks or listening to my little rant. Now onto something more positive!

Last night after rotation I drove down to Kalamazoo to meet up with my friend Pam at Olive Garden. If you have been reading for a while then you may remember when I went to her wedding this past summer (she is also my Linkin Park concert buddy). I can't believe I haven't seen her since her wedding day; it has been far too long!
We obviously had some major catching up to do, but little did I know that she had some big news that she was going to be sharing…
SHE'S HAVING A BABY!!
She definitely has that pregnancy glow
. It's hard to tell, but she's already five months along! She is my first really close friend who is having a baby and I couldn't be happier for her and her husband. I'm so excited to meet her little girl in August!
Even though she is my first in-real-life friend who's pregnant, I feel like I already know so many people who are having babies since the pregnancy bug has been hitting the blog world lately (Exhibits A, B, C, and D). Must be something in the air
.
Naturally, we got so caught up in baby talk that we kept forgetting to actually pick something to eat for dinner. Our poor waiter had to come back three times before we finally stopped talking long enough to glance at the menu.
Like most dining experiences at Olive Garden, we started with salad and breadsticks.
And I ordered the shrimp primavera for my entrée.
It was good, but nothing amazing. I ended up eating all of the shrimp and mushrooms and about half of the pasta. I was in the mood for shrimp though and it definitely satisfied my craving!
After we finished our meals we ended up spending almost an hour sitting at our table and continuing on with our conversation. So much has happened in both of our lives over the past nine months that we probably could have chatted all night and not run out of things to talk about. After feeling guilty for taking up a table for so long, we decided to go sit outside to talk for just a bit longer. It was so warm out and neither of us were ready to leave yet. I've really missed Pam and it was wonderful to catch up with her!

--------------------

Before I run, I just wanted to say thank you for your overnight oats suggestions! I was not a fan of the batch I made yesterday:
But I think I'm going to like the combination I have whipped up for this morning's breakfast. In case you're wondering, here's what was in yesterday's oats, but like I said, I was not a fan:
1/2 cup oats
1/2 cup skim milk
1/2 cup vanilla Greek yogurt
2 Tbsp PB2
1 Tbsp cocoa powder
1/2 sliced banana
The combo of vanilla Greek yogurt, PB2, and cocoa powder didn't mesh well for some reason (in my opinion), and I think it would have been better either without the PB2 or without the cocoa powder. Today's batch contains neither of those, and I'm hoping I like it! I'm determined to find a combo that I love enough to eat every day for the next few weeks
.
Catch ya later!