I have a little confession.
I am totally obsessed with this song:
It just puts me in the best mood and makes me want to dance around my living room like I'm a boy-crazy boy-band-loving teenager again. Plus, what girl doesn't love hearing that she's beautiful?

(By the way, did I throw anyone off with the title of the post by making you believe this was going a deep and serious post about inner beauty or something along those lines? I thought about that when I wrote it, but I couldn't think of anything else. Writing post titles is hard!)

Moving on, today marks day 3 of the start of my weight loss plan. Day 3 is always a tough one – oh, who am I kidding; every day is tough! While we're on the subject, I do want to give a huge thanks for all of your supportive comments yesterday. I know I always say this, but you really don't know how much it means to me and how much it motivates me. I was also happy to hear that so many of you starting fresh with me! I'd love if we could all motivate each other, whether it be here, on the Facebook page, or where ever. Let me know if there is anything you'd like me to post more of in the upcoming weeks – whether it be more food posts, workouts, calorie totals, tips that have helped me, moments of weakness (ha!), or whatever. Posting those sorts of things definitely helps keep me on track!

Alright, now that we've got all that squared away, I do believe it's about time for another edition of What I Ate Wednesday.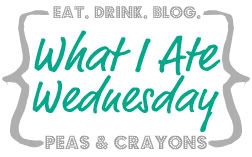 Yesterday's eats were pretty standard and simple around here, but here they are!
Breakfast –
I am so repetitive with my breakfasts and lunches. I'll eat the same thing every day for weeks before moving onto something else. For a while I was on a Greek yogurt pancake kick for breakfast, but now it's back to egg sandwiches.
Lunch –
Remember that salad I was eating every day last week? Yeah, I'm already back to sandwiches.
Same as before: deli ham, spinach, 1/4 sliced avocado, and a Laughing Cow cheese wedge on an Aunt Millie's Slimwich. With Chobani Greek yogurt and fruit, of course.
Dinner -
Since I'm approaching my final weeks here in Grand Rapids, I'm entering the "must use up everything in the refrigerator and freezer" phase. Well, last night's dinner was an attempt to use up the rest of my frozen meals that have been sitting in my freezer. While my Amy's Kitchen Mexican Casserole Bowl cooked up, I enjoyed the rest of my mom's broccoli salad.
I also got impatient and had a clementine a little bit later. I like cooking frozen meals in the oven because I think they taste better than the microwave and it makes me feel like I'm cooking but 50 minutes is way too long to wait for a meal when you're starving. I thought it would never be done.
Re-plated, because I certainly have nothing better to do than wash more dishes:
It wasn't bad, but I don't think I'd buy it again. While it may be organic, it really wasn't very healthy – loaded with fat and carbs with not a ton of protein. No big deal because I had the calories and got plenty of protein in yesterday, but like I said, I probably wouldn't buy this one again.

This morning I have a journal club presentation, which means the first of four projects will be knocked out. Eight more days of rotation to go!!
Have a wonderful day
.